You can find Marchisio salami in the following special flavours:
Salami with Black Truffle 
Thanks to Cav. Marchisio intuition, this salami was born from the appreciation of the "Langa jewel", summer Black Truffle, chopped up in flakes and added to the traditional mixture of selected meat and spices. SALUMIFICIO MARCHISIO takes pride in this peculiar salami, his intense and unique taste will pervade your senses and enrich your table.
Marchisio Salami with Black Truffle was also rewarded with two golden stars by a selected jury of 200 experts of the London gastronomic market, during Bellavita Awards London 2016, and described as an authentic tasting salami for its enjoyable aroma.
Salami with Mushrooms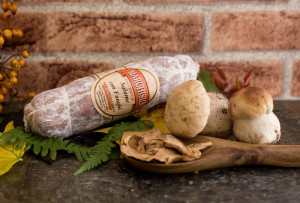 Marchisio Salami with Mushrooms is the perfect salami to bring on your tables for a traditional meal. The flavour of mushrooms perfectly meets the taste of seasoned meat creating a balanced and savory salami with an autumn hint.
Try Marchisio Salami with Mushrooms with a slice of warm and crunchy bread.
Salami with Barolo wine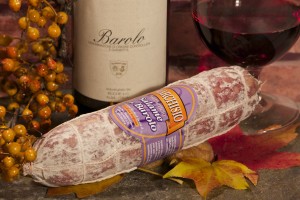 Cav. Marchisio could not forget the king of Langa red wines: Barolo. Mixing this tasty red wine with the selected meat from local pigs, gives birth to Salami with Barolo wine: whit his special and delicate scent this salami is appreciated by the finest palates. Taste it with a crispy slice of homemade bread.
Salami with Garlic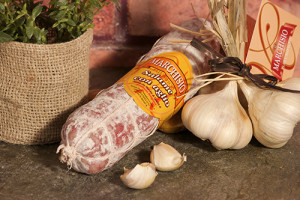 Salami with Garlic is appreciated especially by gourmet. It is made with a medium milled mixture of selected first choice meat and the garlic delicacy guarantee high digestibility of the product.
Salami with Walnuts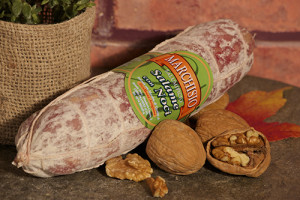 The tight bond with the territory is a known characteristic of SALUMIFICIO MARCHISIO production, with this in mind we combined our traditional recipe with the tastiest walnuts. From this curious match, SALUMIFICIO MARCHISIO can offer a unique salami, with a delicate, kind taste.
Salami with Chili pepper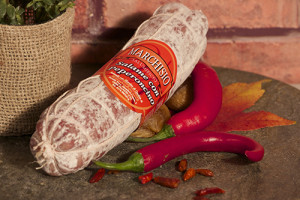 The combination of two specialties, chili pepper and Marchisio salami, gives birth to this product. With a strong and spicy taste it is the ideal ingredient to liven up your appetizer.
Salami with Fennel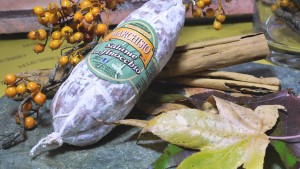 Our classical recipe for the best Marchisio salami, naturally flavored with the addition of minced fennel seeds. Once cut, the delicate anise fragrance will emanate from the salami slice during the tasting.
Savor Marchisio Salami with Fennel right after cutting, with a slice of bread, to better appreciate his particular taste.
Salami with Ginger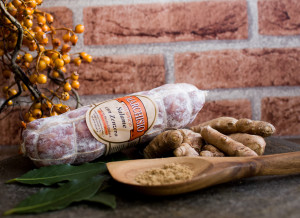 To follow the market trends we proposte this new match: the classical recipe for the best Marchisio salami, naturally flavored with the addition of ginger powder. This joung and fresh taste will pervade you at the end of the tasting and will surely conquer ginger lovers.
Savor Marchisio Salami with Ginger alone or with a slice of bread.
Salami with Donkey meat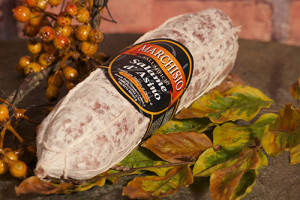 Marchisio salami with Donkey meat is made carefully selecting the raw ingredient, adding a small percentage of pork meat. When cut donkey salami shows an intense ruby red colour, with a compact but soft slice and a delicate taste.
Venison salami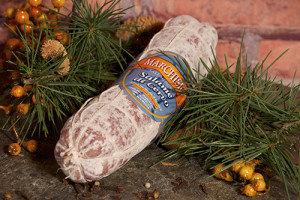 Venison salami was one of the most appreciated cured meat product from the Savoia royal house, which during summertime liked to enjoy rich banquets in their hunting lands on Cuneo's mountains. Venison salami is made selecting the neatest meat parts of the animal, adding a small percentage of pork meat. When cut venison salami shows a compact but soft slice, with a dark red colour and a peculiar kind taste.
Salami with Wild Boar meat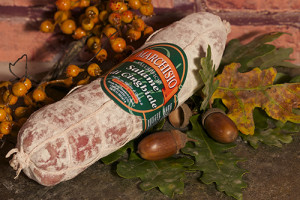 Among SALUMIFICIO MARCHISIO range of products, stands out the salami with wild boar: it is made with the leanest meat from wild boar, with the addition of a small percentage of pork meat. The slices of this exquisite salami are defined by a vivid red colour. The taste shows an intense savour like most wild game salami, made special by hints of undergrowth. Excellent with wood oven baked bread and craft beer.
Salami with Veal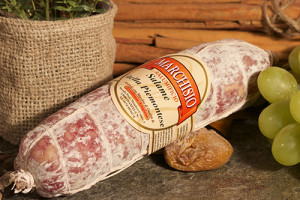 To celebrate the traditional, tender meat of Piedmont Veal, SALUMIFICIO MARCHISIO makes this particular salami to express and remember our territory traditions. This salami, like the entire range of Marchisio salami, is stuffed exclusively in natural casing.
Beef salami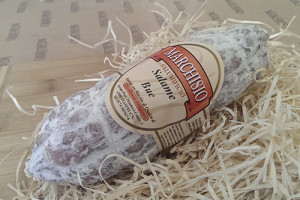 The steer was used in the rural tradition to help Piedmont farmers in land work, and developed a particularly muscular meat, used to make excellent cured meat products. This production is limited to the Christmas period, when beef is available on the market because of the famous fair "Fiera del Bue Grasso" on December.